Charles Brooking-Famous 18th. century Marine Artist
The Royal Museums Greenwich UK lists over 50 paintings to Charles Brooking and you view images of most of these paintings.
To mark the 250th anniversary of the death of Charles Brooking and the 260th anniversary of the death of his colleague Peter Monamy an exhibition of paintings by both artists, some of which have never been shown before, was held at the St. Barbe Museum at Lymington, Hants from 15 August to 17 October 2009.
The Brooking Society produced a booklet, illustrated in colour and b/w, with a lot of new information about Charles Brooking and his family.
It was sent free to all members, but is still available to other interested parties at £3.50 plus p&p.
A plaque to commemorate the life of Charles Brooking can now be seen in the City of London, in Tokenhouse Yard just behind the Bank of England.
The formal unveiling by the Lord Mayor of the City of London took place on Monday 20th, October 2008.


Here are two pictures by the famous maritime artist,
'Ships in a light breeze'

and 'A British man of war firing a salute'.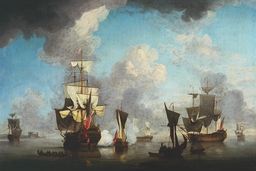 In addition to the Brooking society publication on Charles Brooking Commander David Joel has written a book on CHARLES BROOKING. (Published 2000 ).

The National Maritime Museum website has more information about Charles Brooking
Charles Brooking - Current day collector.
Charles Brooking's passion for architectural detail began back in 1956 when he was just three, and fascinated by the stylised 1930's Bakelite house numbers he saw on neighbours' front gates.
In the years since then he has allowed nothing to stand in the way of his determination to preserve telling mementos of Britain's built heritage. A lack of transport was no obstacle when he rescued the heavy iron Regency hob grate from Elizabeth Barrett Browning's bedroom in London. He brought it back by taxi and a crowded commuter train. A taxi came in useful once more when he retrieved a fine glass Adam fanlight from the Chinese Embassy in Portland Place. After he did succeed in buying a car, Charles has never since knowingly driven past a builder's skip without stopping to examine its contents for items of interest.
'The Brooking Collection'
To Quote: "Charles Brooking has made a lifetime's study of historic architectural detail, with a particular focus on the myriad variations in their fittings over the past five hundred years."
The Brooking Society visited THE BROOKING COLLECTION in 2011
The American St. Nick
Youtube link to the full story video
The occupying Germans had been forced out of Wiltz, Luxembourg by advancing American troops. It had been almost five years since the townspeople of Wiltz had been able to celebrate their annual tradition of Saint Nicolas Day. The Nazi's had outlawed the annual Christmas-related celebration when they occupied Luxembourg in 1940.
Even though American GIs had liberated them in late 1944, the citizens and especially the children of Wiltz, a town in the hills bordering the dark and foreboding Ardennes forest, had no resources left in which to mark their very special holiday.
One GI, Corporal Richard Brookins, played the role of Saint Nick, costume and all. His sleigh, a U.S. Army jeep. Brookins and the men of the 28th passed out candy and baked goods to the children of Wiltz. Songs were sung. It was a wonderful day for the free citizens of the town and for the American soldiers who wouldn't be home for Christmas in 1944.
A shocked Richard Brookins knew nothing about the annual American Saint Nick celebration in his honor until 1977 when he was invited back to re-create his role. Thousands of people turned out to welcome him. He had become a hero. The American St. Nick is a World War II Christmas story that spans seven decades and continues to this day.