The CHANT OF LIBERTY written by John H Brooking (UT3)
The Brookings are a diverse lot and you'll find many authors, artists etc, but only one composer that we know of and he only wrote one known piece. John H Brooking was a Canadian farmhand who was eager to receive a good education and eventually enrolled at the University of Rochester where he graduated in 1867. He wrote the Chant of Liberty during the Civil War and the lyrics are all about freedom.
More can be learned about John H in an article in The Historian.
Click the link to play and pause the Chant of Liberty
West ever west, taking my flight,
Fleeing the empires where might is the right;
O'er the sea foam, refuge and home
Joyed I to find with Columbia so bright.
Sister beloved cease to repine,
Chides from above, a father divine,
Pray that his rod, sealing the poor,
Make but his love to thee lasting and sure.
Joy, O! in joy, roamed I with thee,
Star of the North-land, the hills of the free,
Till o'er the prey, 'mid the noon-day
Roared forth the monster I shudder to see.
Sister deplore, filled at his shrine,
Bathed in their gore, warriors of thine;
Nobly they fight, glorious they fall,
Laurels of heroes shall honor them all.
Rage, fiercely rage, maddened by hate.
On to the North where the loyal await,
Traitorous band, a mightier hand,
Shall seize thee, o'erwhelm thee,
And seal they dark fate.
Sister adored, loudly rejoice,
Victory's God, makes thee his choice,
Close at thy side, forever I'll be,
Happy Columbia the Saint of the free.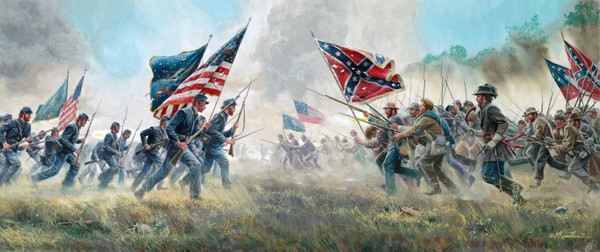 Copyright Brooking Society 2021